Delicious autumn! My very soul is wedded to it, and if I were a bird I would fly about the earth seeking the successive autumns.
George Eliot's idea sounds really appealing to me. Autumn is my favourite season of the year. I, too, could travel along the world seeking for the beginning of another Autumn, especially to those places where leaves go from yellow to reddish, and all tones of orange... Where apples, mushrooms, pears, and
pumpkin
are getting in season. A place where celery, clementines, and
butternut squash
come to hand easily. With Autumn comes a light blanket, and a cup of tea with a Pumpkin Poppy Seed Muffin.
Pumpkin Poppy Seed Muffins
Makes 12
1 cup pumpkin or butternut squash, pureed*
1/2 cup + 2 Tbsp (about 150ml) cream
1 large egg
1 1/3 cup (about 175g) self-raising flour
1/2 tsp baking powder
1/4 tsp bicarbonate of soda
2/3 cup (about 150g) caster sugar
1/2 tsp cinnamon
1/2 tsp ground ginger
1/2 tsp allspice
1/2 tsp grated nutmeg
3 Tbsp unsalted butter, melted
2 Tbsp poppy seeds
powdered sugar, to dust (optional)
Preheat the oven to 180°C (360ºF). Mix in the pumpkin purée with the cream, and the egg in a medium bowl. Sift the flour, baking powder, bicarbonate of soda, sugar, spices, and nutmeg into another bowl. Add the poppy seeds. Combine both mixtures. Add the butter, beating just until combined. Spoon the mix into a silicone muffin pan. Bake for 25 minutes or until well risen and golden. Remove the muffins from the pan and cool on a wire rack. Dust with powdered sugar to serve.
The purée gives a wonderfully moist texture to these spicy muffins. They don't keep well for long, and are best eaten within 2-3 days.
* Pumpkin or butternut squash can be boiled, steamed or roasted. I've used the latter, scooping the pulp after roasting half a pumpkin covered with aluminum foil for 45-55 minutes or until soft.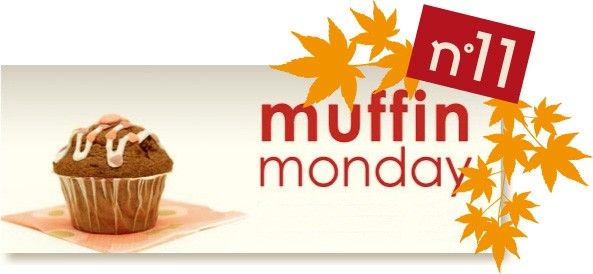 "Muffin Monday" is the name of a French muffin-oriented event, organized by Dominique of
Cuisine Plurielle
. Its
#11 edition is dedicated to Autumn
. These
Pumpkin Poppy Seed Muffins
are my entry to this adorable event.